If you've never eaten homemade yogurt then you're missing out. It's creamier and more nuanced in flavor than store-bought varieties.
When I realized that I could buy milk and make yogurt for a fraction of the cost of those quart-sized containers I jumped all over it. There are a few methods for making it, but all require these things:
Heating the milk and then cooling it down 110 degrees (or heating it to 110 if you're a raw milk enthusiast).
Maintaining a 100 – 115 degree temperature during the culturing process.
A culturing time of 8-24 hours in which the milk is left undisturbed.
Four Methods For Achieving Yogurt Success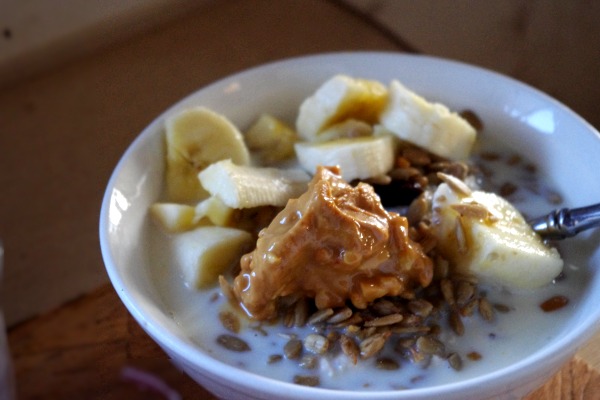 Yogurt in action in soaked breakfast muesli.
The Cooler Method. In this method you use an insulated cooler to keep the yogurt warm. You can do this through two means. The first is to place a heating pad in the bottom of the cooler, plug it into an outlet and run it on low the entire time the yogurt is incubating. The second is to fill the cooler with very warm water 3/4 of the way up the level of the jars you are culturing the yogurt in. This second method requires that you check the temperature of the water at least once in the culturing process to ensure the water is still warm enough. Changing the water without disturbing the yogurt may also be necessary.
The Counter Top Method. This is a really easy means of making yogurt as you can culture at room temperature without worrying about maintaining a consistent temperature. You do need a specific culture for this, though, because most store-bought yogurts use cultures that require a warmer temperature for culturing. You can find counter top yogurt cultures at Cultures For Health.
The Crock Pot Method. This is one of the easiest, most hands-off methods that calls on the slow cooker to do the heating of the milk, the cooling of the milk, and the incubation all in one vessel. Because crock pots vary you may have to adjust the timing of this recipe to suit your slow cooker and the only real way to know is through trial and error.
The Yogurt Maker. This method requires the use of a yogurt maker which you may not want to have to purchase. There are fairly inexpensive ones on the market, though, which would pay for themselves eventually if you are interested in the convenience and ease of using one.
So, if yogurt is something you eat then you may want to consider making it at home for money savings, health, and taste.